---
You are already wondering where to put all the baby things when you are on the go?
Tired of "carrying" a normal diaper bag on your shoulder?
This is over IMMEDIATELY! With our new, stylish, and practical changing backpacks you are a modern mom who still has everything for her little baby. Be not only mom - but also a woman and feel comfortable. Hardly any backpack has so much storage space.
THE ADVANTAGES AT A GLANCE
 Insulated compartments for bottles

 Separate compartment for wet clothes

 Large main interior compartment

 Never search for your key again thanks to an integrated tag

 Separate cell phone pocket for quick access

 Rear access compartment for accessing the utensils below

 Outside pockets for quick access to wipes, disinfectants or similar

 Very light compared to other diaper bags.

 Soft, perfectly fitting straps for premium comfort

 Well-thought-out interior compartments: All compartments are set above so that you can quickly get to everything important
It provides a bed for your baby wherever you go.

The bag can be fully expanded into a comfortable and secure little bed for your little babies.
SPACE FOR EVERYTHING | We take storage space very seriously. Use a number of pockets in your backpack to store bottles, diapers, (wet) clothing, smartphones, wet wipes, snacks, drinks bottles.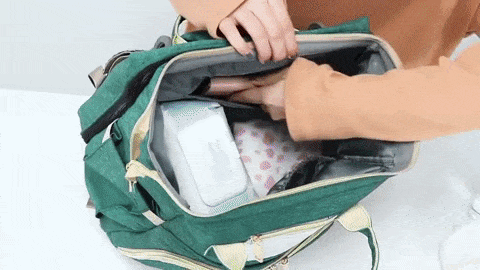 EVERYTHING READY TO HAND | Use the separate compartment on the back of the changing backpack to easily access the utensils below. This bag is also equipped with compartments for e.g. wet tissues, handkerchiefs and drinks tested. There is built-in lanyard around the inside of the backpack so you never have to look for your key again.
HIGH QUALITY  | We have paid attention to high quality in the production. Perfectly processed double seams.
Quality meets style here A perfect interplay
HEATER FOR MILK BOTTLES | Use a specially made compartment for your milk bottles. Insulated and big enough to store a few bottles. Always provide your baby with warm milk.
Specifications
Weight: about 0.9kg
Length: 30 cm / if expanded: 70 cm
Height: 44 cm
Width: 18 cm
LONG-TERM USE | Is your child old enough that you no longer need a changing backpack? No problem. Just keep using the backpack if you e.g. take your child to the playground or to a children's birthday party. Many of our mom customers even use the backpack for themselves.

GET THEM WHILE STOCKS LAST!